Partners
Resilans cooperates with different partners.
Resilans cooperates with different partners.

NetClean is the leading developer of safety solutions to stop the spread of child sexual abuse material. Due to their outstanding efficiency and applicability, the solutions are being used by both small and multinational companies, government agencies, Internet service providers and law enforcements worldwide.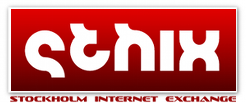 We are partners with STHIX who runs a neutral independent, professional Internet eXchange for internet traffic.
STHIX provides a reliable high speed interconnection between internet service providers in Stockholm. STHIX is a neutral and independent, professional exchange. STHIX aim is to be able to supply all kind of ISPs with the ability to join an Internet Exchange, no matter if you have 10Mbps or 10Gbps of traffic. We therefore supply our members with ports in the range of 100Mbps (which are 100% free) up to single or multiple 10Gbps ports.